Digital Storytelling Championship 2021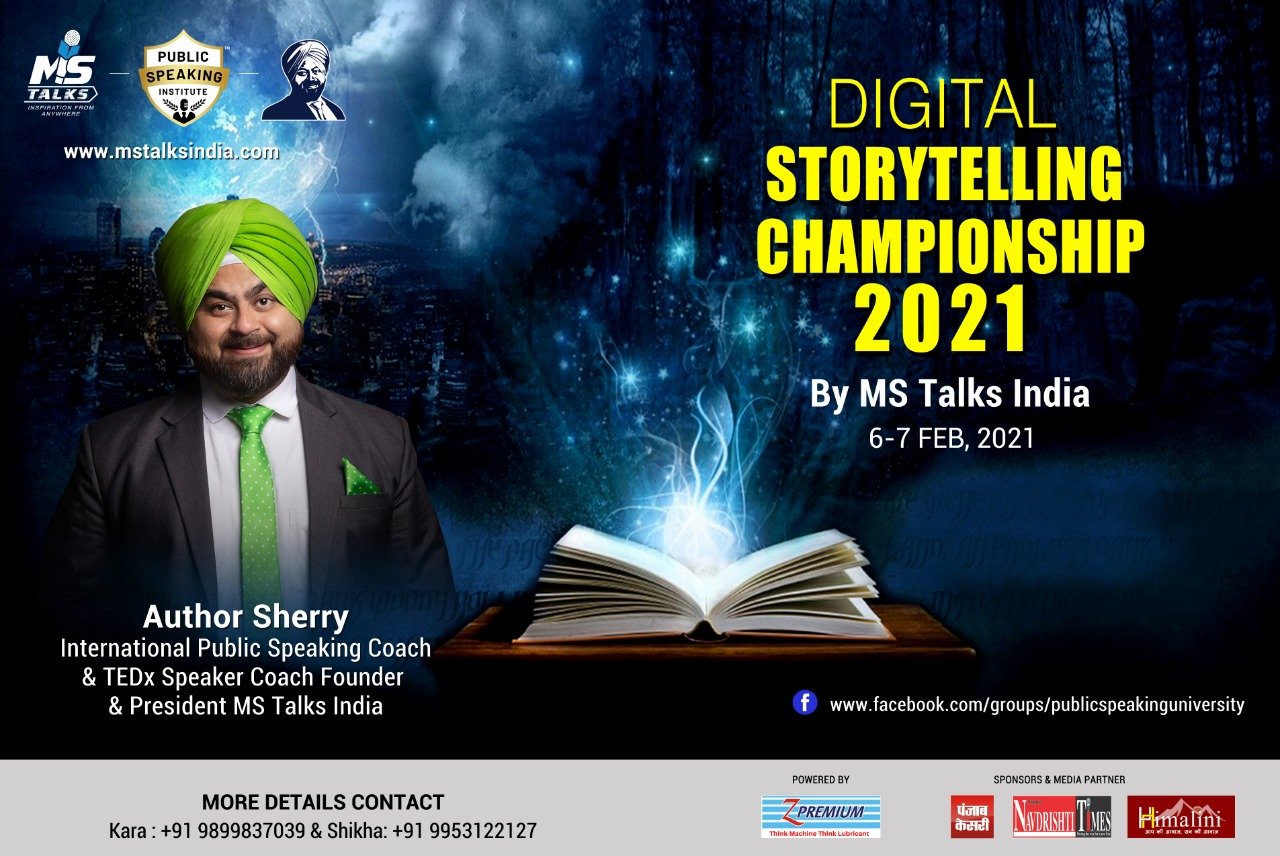 Do you love sharing stories? Do you like to share your real story on an international platform?
Do you find storytelling can influence masses and that – "One story can change life".
Here is the opportunity, you have been waiting for – Share your story whether it is fiction or non‐fiction.
It doesn't matter, but it should connect to all the listeners with a take away.
'MS Talks India' has been instrumental to provide a platform to the common man and share voice of India to promote public speaking, storytelling skills, presentation literacy, and importance of communications skills in India.
'Digital Storytelling Championship 2021' (DSC2021) by MS Talks aims at unleashing the hidden potential of  an individual and provide you with the international platform to promote yourself as a Public Speaker  with your prepared speech.
We are looking for 'Storytelling Champion' and anyone willing to be a champion or showcase their talent
can participate from anywhere across the globe.
Through 'Digital Storytelling Championship 2021', we are creating awareness for the importance of
storytelling, communication and advocate presentation literacy by giving India it's deserving Storytelling
Idol and Overall Champion in Public Speaking when it comes to stories.
DSC 2021 is curated by MS Talks India Founder & President‐ 'Author Sherry', a renowned International
Public Speaking Coach and TEDx Speakers Coach in India who has been into full‐time professional
speaking, public speaking training and coaching, consulting business for more than a decade.
Author Sherry is on a mission;
"To create 1 million speakers in India by 2030."
In DSC 2021, we will have 50 participants from age category of 10 years to to 70 years. We propose 25
participants per day to perform.
Once 50 participants are selected, the speaker's window will get closed and our team members will
contact you on how to take it further.
We will have panel of international expert jury who are industry experts to judge you and decide the title
winner.
Language allowed:
Hindi, English or Hinglish
Category for the prepared story:
'Out of 5 categories' below you can choose any one category and topic for your prepared storytelling talk and deliver your prepared story speech online on the day of championship.
Historical Story: Ancient times, History of the world, any famous Indian, tragedy tales, etc.
Start‐up Stories: Stories of successful startup who got an idea and created solutions in the market. You can share your own start up story too. 
Personal Story: Personal Story of your life, relationship, life's real experience, failure to success, transformation of body or mind, the underdog, the quest, the return.
Corporate Story: Being a corporate employee what moved from an epic experience
Business Storytelling: Any rags to riches experience, business turnaround or innovation
*Please note the topics are given for your guidance you can choose your own topic as per your comfort
amongst the categories highlighted and underlined in bold.
Cool tip for Storytelling: Don't forget to add suspense, emotions and plot to make the stories memorable.
Time for each speaker:
3‐5 minutes. You need to prepare accordingly.
The timer will notify and strict adherence to timings will be followed.
Any individual registration (audience) will be chargeable.
Use of Prop:
The storyteller will come well prepared and use of prop is mandatory.
Some Video links where prop is used. This will help you get an idea how to use prop at DSC 2021 by MS
Talks.

Scores parameters:
Soft Skills Score (Language, Flow of speech, Rate of Speech, etc.)
Non‐verbal skills Score (Body Language, Gestures, Facial expressions, etc.)
Content Score (Content quality and Brevity)
Storytelling Skills (Plot, Emotions, Surprise element, Connection Delivery part)
Prop (Any object to make your talk impactful)
Titles to be won:
Overall Storytelling Champion ‐ Founder's choice – Digital Certificate of Recognition + Blog,
Memento by courier
DSC Storytelling Champion (1st) – Digital Certificate of Recognition + Memento by courier + Blog+  Interview on the MS Talks community at "The Author Sherry Show" for branding & visibility.
1st Runner up (2nd)‐ Digital Certificate of Recognition + Memento by courier + Blog
2nd Runner up (3rd)‐ Digital Certificate of Recognition + Memento by courier + Blog
Who all can apply: It is an open competition and anyone can apply, still we would like to share the most suitable profiles to apply.
School & College going students
Law and Journalism Students
Motivational speakers around the world
Public Speakers around the world
Professional Speakers around the world
Aspiring Public Speakers around the world
Trainers, Educator, Life Coach, Anchor, Emcee, etc.
YouTubers, Influencers, Social Media Influencers
Bloggers, Authors, Storytellers
Any individual across the world with good oratory and storytelling skills or looking for an international speaking platform can participate.
Event Timelines
6th February 2021
Event Schedule 11:00 am - 1:30 pm
7th February 2021
Event Schedule 11:00 am - 1:30 pm